Khushi Kapoor Oozes Unmissable Glamor With The Cut-Out Trend!
Khushi Kapoor is the newest fashionista in the tinsel town known for her edgy, luxe, and ultra-chic choices. Even before her debut in the films, she has managed to win hearts with her trendy outfits. She has a keen eye for fashion hotcakes; hence no wonder she undeniably rocked the cut-out trend. Khushi's bold and sassy fashion sense has stimulated a colossal poise in her personality. The actress-to-be has made her mark with her impeccable flair and ability to pull off any look. Her style is synonymous with feistiness and power dressing in classic colors and bold cuts.
The Charismatic Magic of Cut-Outs
The cut-out ensembles are gaining much traction in the last couple of months. It is one of the hottest trends this season and is here to stay. The look features clothes that are cut out in interesting ways, be it around the neckline, armholes, or waist, to reveal the skin and create an alluring silhouette. Many global celebrities such as Zendaya, Kim Kardashian, Jennifer Lopez, Rihanna, Dua Lipa, Bella Hadid, and Naomi Campbell swear by attires embellished with swankier cut-outs.
Cut-outs help flaunt your toned physique without being too revealing, which makes them a celebrity-favorite style. If you also adore Khushi's jaw-dropping ensembles, this skirt set donned by her is sure to spellbind you!
The Sultry Goddess in Spaghetti Top
Khushi is nothing less than an enticing vision in a bralette-style top with spaghetti straps. We are totally bowled over by the cut-outs at the neckline and lower torso inspired by the tiny triangles. Black is surely her color, and we cannot agree more with it. A lacey closure at the back adds the correct proportion of elegance and verve to her appearance. Thus, it would not be wrong to say that her style evolution over the years is commendable and inspiring.
Bedazzling and Bolder in Slinky Skirt
Miss Kapoor radiates like the "beauty in the black" in this cut-out skirt. What grabs our eyeballs is the stunning design at the waist, accentuating her silhouette like no other. The pattern of the cut-outs is pretty inventive, adding freshness and allure to her look. She is showing off her naval, and super-toned waistline, enhanced by the thread-like belted finish of the skirt. Moreover, those high heels give extra height to her frame to complete her feminine look for the day.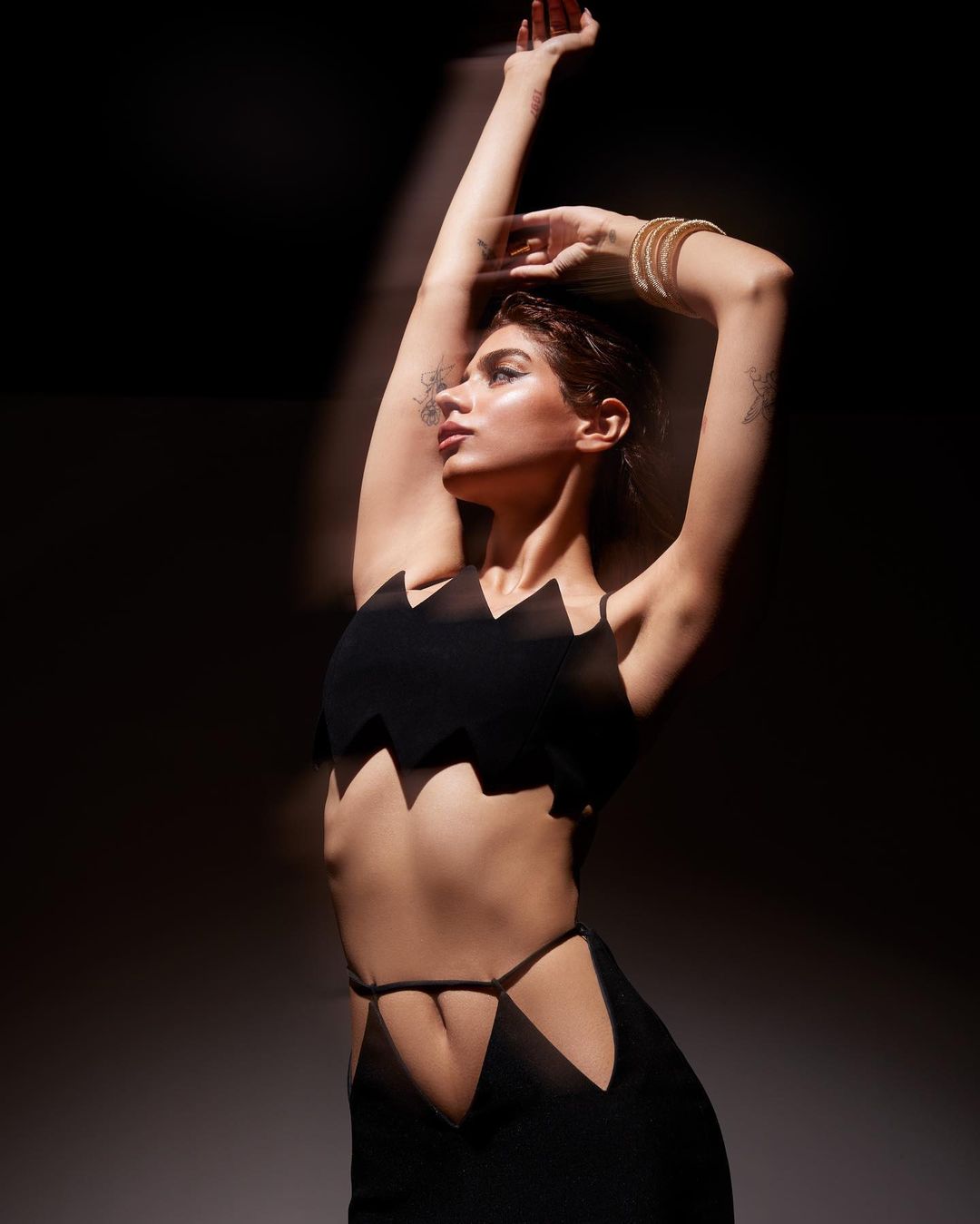 Product link: https://www.thehouseoftextiles.com/products/milano-satin?variant=40499705807009
A Façade That Says It All
As she is wearing a flattering black skirt set, the makeup is kept at its minimal best to letting the ever-so-classic color and cut-outs rule her mesmerizing persona. The glossy lips, bold winged eyeliner, perfectly-done brows, and tons of blush and highlighter on her cheeks bring out her feline side. She has accessorized her look with a bangle-style statement bracelet for minimalistic yet tempting aesthetics. Khushi has pulled her hair into an updo, leaving the tresses loose and tousled for added effect. Her makeup is nothing less than a beautiful reflection of gorgeousness intermingled with sheer confidence, which compliments her outfit.
Khushi looked like an absolute dream in the black cut-out skirt set. She always makes the cut-out trend look desirable with her effortless panache. Her latest Instagram photos will make you want to steal her style. Take inspiration from her closet and pick the world-class fabrics from https://www.thehouseoftextiles.com/ your one-stop destination for all things fashion.
PHOTO COURTESY: KHUSHI KAPOOR'S INSTAGRAM
---